CARACTERISTIQUES / TECHNICAL SPECIFICATIONS
ZONDA C12S 7.3 / ZONDA Roadster / Zonda F - Zonda F ClubSport
---
Engine :
Mercedes - Benz M 120 E 72 AMG - 12 cylinder V 60░ displacement 7291 cc, 48 valves.
Maximum power Kw (hp)/Rev: 408 kW (560 HP.) / 5550 t/mn (Zonda F : 443kW/600 HP - Zonda F ClubSport 480kW/650 HP)
Maximum Torque Nm/Rev: 760 / 4100 (Zonda F ClubSport: 79,5 Nm @ 4000 rpm)
Maximum speed : beyond 210 mph (Zonda F beyond 215 mph - over 345 km/h).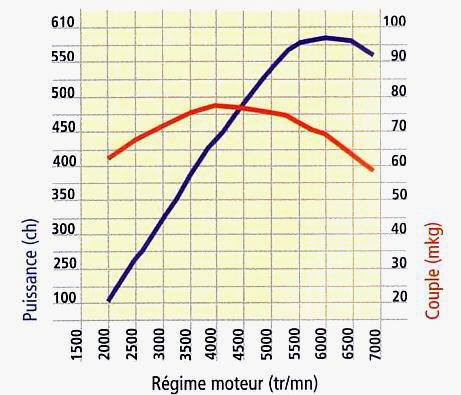 Torque and power curve of the Zonda F (the ClubSport version delivers 650 HP and 79,5 Nm).
Brakes :
Hydraulic power brakes (Brembo) with four piston caliper - Front & rear : ventilated disks, front 355 mm / rear 335 mm. (Zonda F: front 380x34 mm six-piston caliper, rear 355x32, 4-piston caliper, on option CCM ceramic brake discs)
ABS system.
Transmission :
Engine longitudinal center-rear - Rear wheel drive.

AP twin plate clutch - Mechanical 6 speed (+ reverse) gearbox.
Self locking differential.
Bosch Electronic Traction Control.
Suspension:
Independent wheels with double A-arm. Helico´dal springs and Ohlins hydraulic dampers. Anti-roll bar, suspension arms in aluminum alloy.
Steering
Rack and pinion, power steering.
Wheels:
One-piece forged aluminium APP wheels 19', Michelin Pilot tires (front 255/40/18, rear 345/35/18). Zonda F front 19', rear 20'.
Suspension:
4 independent wheels with double A-arm.
Helico´dal springs and Ohlins ajustable hydraulic dampers ; anti-roll bar.
Aluminium alloy suspension arms.
Chassis Structure:
Central carbon fiber chassis.
Front and rear Cr Mo steel space frames.
Carbon fiber composite "MD system" patented body panels
Dry weight:
Zonda C12S 7.3: 1250 Kg
Zonda S Roadster: 1280 kg.
Zonda F Clubsport: 1230 kg.
Aerodynamic downforce: Zonda F ClubSport : 600 g @ 300 km/h, 270 kg front, 330 kg rear.
Dimensions :
lenght 3495 mm
width 2055 mm
wheelbase 2730 mm
height 1151 mm.
Pagani Zonda F ClubSport Performance :
0 Ó 100 km/h : 3,6 s.
0 Ó 200 km/h : 9,8 s.
Braking from 200 km/h to full stop: 4,4 s.
Maximum lateral acceleration: 1,4 g
Maximum Speed : over 345 km/h.
---
AUTODROME

+33 4 92 99 19 00 / fax + 33 4 93 99 10 11 email
Accueil Photographies Prix Contact Couple moteur
---