Enjoying every day of your life is an obvious need ; it can also be an Art."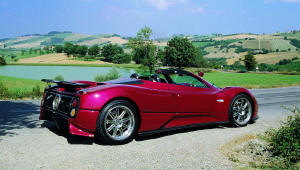 ---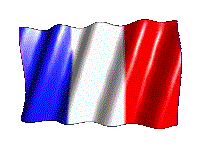 A glance at Pagani owners' everyday life.
Buying a Pagani Zonda is admittedly more complicated than merely signing a check, because this decision demands the capability to break free from the conformist crowd. You know : "just sign on the dotted line as every body does, and buy it in red as others do, anything else would be a faux-pas"...
Some individuals just think and act by themselves, not by the marketing plans. A bit more complex, but more rewarding, too.
If you can afford it, buying a Zonda C12S or Roadster is indeed quite simple and very rewarding: it starts a new phase of your life. Expect previleged hours onboard - if you love life and automobiles.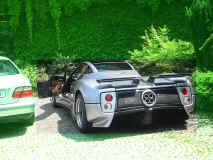 A Zonda is easy to drive and to park with 360° visibility (even the roof is transparent), and its doors open widely so as to facilitate access onboard. Just press the electric window contact, smile to your traffic-light fascinated neighbourghs and answer their their friendly questions. You can then rocket away thanks to the engine world-record torque, even at 1500 rpm in sixth gear...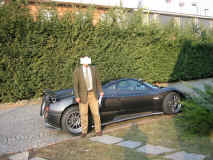 Those who possess a rare pure-carbon finish Zonda (no paintwork, just polished carbon fiber composite!) enjoy the every-day refined pleasure to admire the body of a unique animal, even through tough business days ; this finish may be much more costly and technically complex, it may take ages to be made perfect - but it's simply worth it...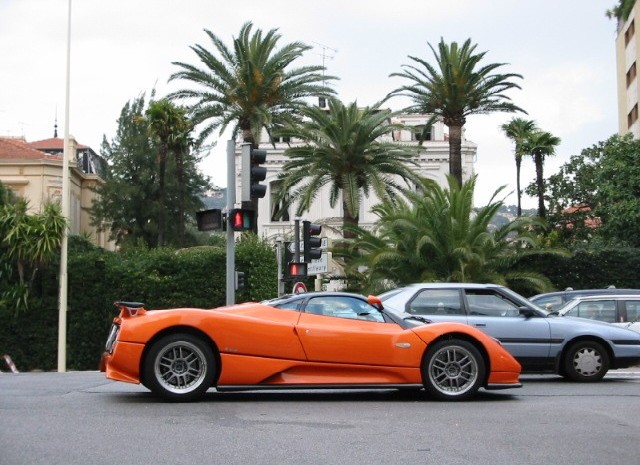 Whether you live in a big city, in a small village or at the seaside, a Zonda is really meant to be driven on any kind of roads - very different from other well-known performance cars that are not really practical for a frequent use. A C12 S is as reliable as a Mercedes and ... simply faster and more comfortable than any other super-car. An electric lift system even gives you an extra inch or two of ground clearance for bumpy roads.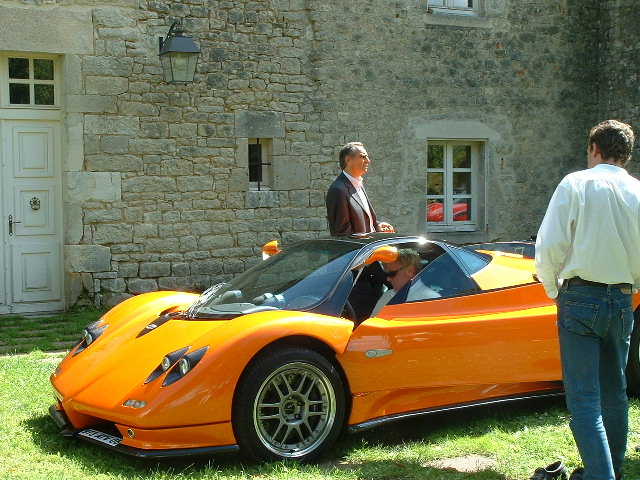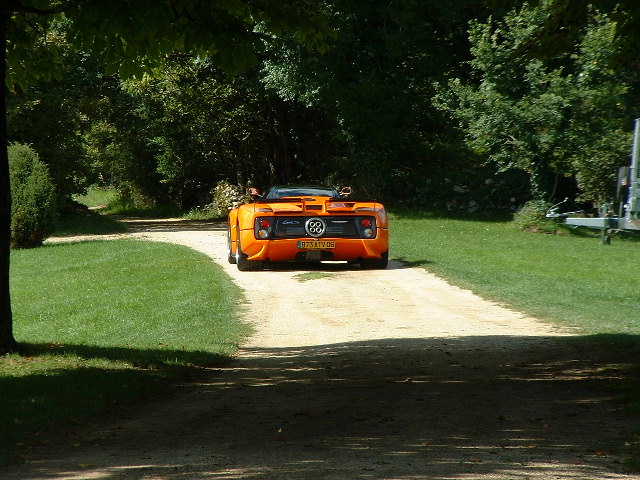 Of course, bright colours can bring some optimism and excitment to a world that tends to turn greyish - unless you decide that it should be otherwise. Our client, the owner of the bright orange Zonda, is a Lamborghini and Ferrari collector ; but even with an F50 or a Zonda, you will find that you would miss something if you don't have a Pagani.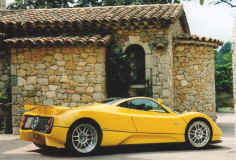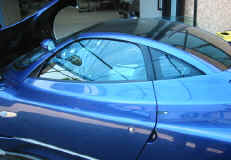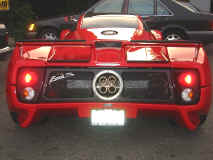 Traditionnally, an infinite choice of coulours and finish is possible when you order your Pagani. For example, you may just indicate the shade of coulour that matches most exactly the colour of your loved one's eyes. You also decide of the nature and colour of the upholstery and interior fittings (leather, textile, ostrich, nubuck, among many options). The red Zonda above is based in the USA.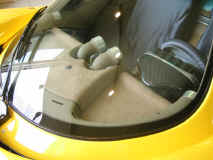 But that's not all : every construction detail can be adjusted to your taste and preferences, which, at this level of price, is absolutely legitimate for Horacio Pagani ; a client of Autodrome recently chose a see-through engine cowling with a superb view on the V12 Mercedes-AMG : this piece of tehnology is worth it. This particular Zonda is just "a little more unique", and a jewel to drive and to admire...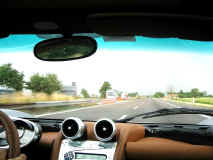 Visibility is good, traffic open: on some itineraries, you can actually cruise at very high speed in a relaxed way and in all safety.
When you stop to fill in the tank, you certainly get some attention. After a highway toll barrier, there are unforgettable sensations when smashing the accelerator pedal...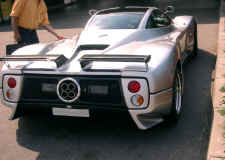 A Zonda is low, streamlined and easily brings you to the 350 kph zone, but you will be able to tame it from the very first day: the beast is very civilised.
Some Zondas are even leaner and meaner than others : we have clients that demand even more of everthing, and we comply with this kind of demand as well.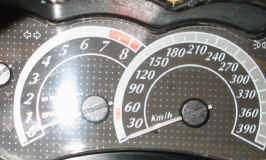 And in these conditions, yes, the tachometer can go as far as you dare (beyond the 390 figure). But in the "normal" version, you still can read 360...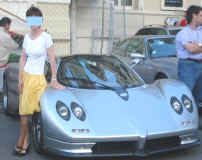 But all Pagani owners are not supermen or pilots. Cruising at low speed, stopping by at the terrasse of a small café, such simple experiences are a sheer delight with a Zonda : sensuous shapes and mechanical jewelry combine for an ultimate high-life experience..."A thing of beauty is a joy for ever".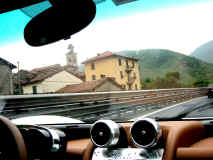 Zondas sometimes come back to their region of origin. Horacio Pagani is always pleased to shake hands with a Pagani client. Welcome to a place where business is less important than drivers and automobiles.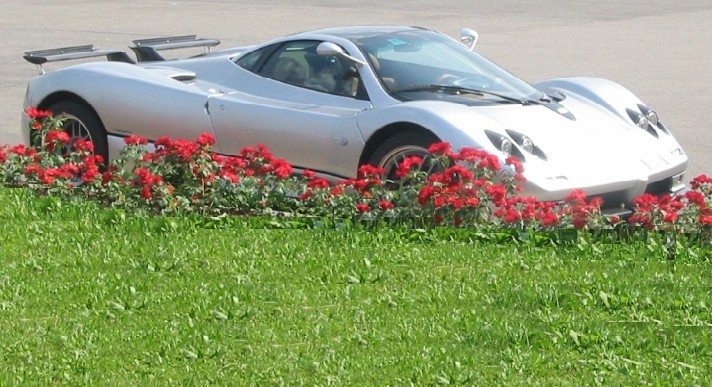 Enjoy !
---
AUTODROME Cannes Exclusive Importer
Telephone +33 4 92 99 19 00 - Fax +33 4 93 99 10 11 - mail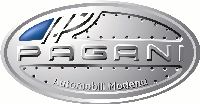 ---