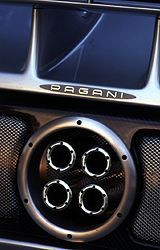 Zonda : named after a violent storm...

At an altitude of 7000 meters, at the top of the Aconcagua (Agentina), you can encounter a very peculiar phenomenon called Zonda : violent movements of air from the Pacific Ocean cause wind and snow storms on this region of the Agentina Andes. Scaring electrical discharges often takes place during summer. Horacio Pagani, founder of Automobili Pagani, has given the name Zonda to his "creature"...
As a teenager in Agentina, Horacio Pagani had the opportunity to share his mechanical dream with the legendary Juan Manuel Fangio, five times World Champion...the Pagani Zonda is this young engineer's dream come true.
1991 : Mastering the new hi-tech materials, Horacio Pagani founds Modena Design, a Company specialising in composite materials and high-performance structures. Through a close collaborating with several pretigious Italian car makes, Horacio developped an extremely ambitious project : to design and build the best possible Gran-Turismo, combining the refinement and road-handling of a thoroughbred with the performance of the legendary "Groupe C" racing cars.
2000 : After many years of engineer design, wind-tunnel work, and prototype road-testing, the Zonda C12 comes to a production stage, and can be actuallly presented «live» to the enthusiasts...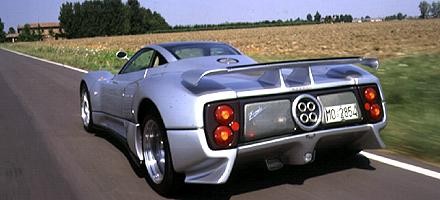 Ultra-rigid and light (carbon-fiber chassis), delivering overwhelming power (thanks to the V12 AMG, 550 BHP engine), the Zonda C12-S is refined as an English limousine, and yet as fast and exciting to drive as you can dream.
The most remarkable strenght of the Pagani Zonda is the combination of qualities almost impossible to combine up to now : truly innovative and powerful styling, highly refined comfort with abundant leather and equipments, and an exceptional "quickness" and reactivity on the road. The car is so light and rigid you feel like there is no response time at all...
Buit like an Italian masterpiece...
The detail of the construction reveals that the Zonda C12 is indeed a work of art : every single part is not only calculated for the best weight-to-strenght ratio, but is also as beautifully designed as a sculpture.
Everything has been considered for the comfort, safety, and pleasure of the driver : GPS, power-steering, air-conditionning, voluptuous upholstery (coulour and type of leather on demand), fitted luggage, hi-fi sound system, look-through roof, and even a six-speed gearbox specially designed by Pagani for a full control of the exceptional power of the specifically designed Mercedes-AMG engine.
o
"The beauty of a project is to become a reality"...
Pagani Automobili has a secret : its visionnary leader has built a Team of exceptionnaly gifted engineers to design and build the best car for the most demanding drivers ; they accept no compromise in the conception phase, they use the best craftsmanship for the construction, and stay inspired by a dream of perfection.
...a hundred years after the first legendary high-performance cars, the legend goes on...We can be part of it.
Technical specifications More pictures of the Zonda Pagani Automobili Autodrome Home Page Stock List Contact us
AUTODROME CANNES
Pagani Automobili Exclusive Importer

Tél. 00 (0)4 92 99 19 00 - Fax 00 (0)4 93 99 10 11 - mail: contact@autodrome-cannes.com