LAMBORGHINI Countach LP400
1976

Le modèle. (english version)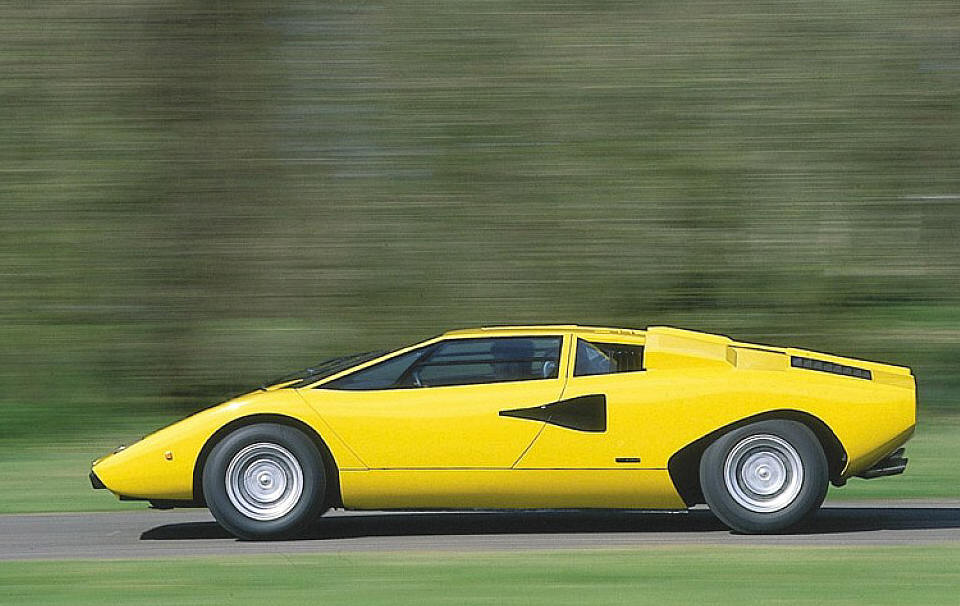 Lamborghini Countach LP400.
Après la sublime 350 GT, stylistiquement et techniquement plus avancée que les Ferrari de l'époque, après l'ahurissante Miura, ultra-basse avec son V12 arrière transversal, après l'anticonformiste Espada 4 places, quel coup de maître allait encore frapper Ferruccio Lamborghini ?
Au Salon de Genève 1972, la presse découvre un vaisseau provenant d'un autre monde, une icône de la vitesse, une silhouette outrageante de beauté, d'une évidence qui démodait sur-le-champ la concurrence, et allait s'inscrire dans l'histoire de l'automobile moderne : la Lamborghini LP500 Countach.
Sa ligne, création de Marcello Gandini, tirait sa filiation du prototype "Carabo" (1968) de Nuccio Bertone, sur base Alfa-Romeo 33, une automobile déjà sculptée dans un profil monocorps effilé, radical et d'avant-garde. De cette ébauche, Gandini extrait la quintessence, créant un archétype de la beauté mécanique moderne.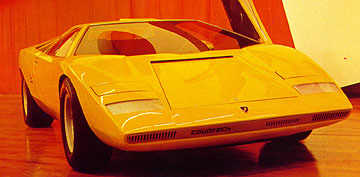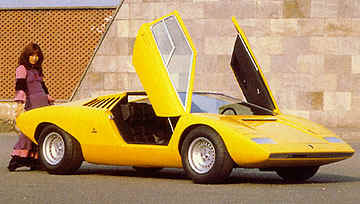 La LP500 (équipée d'un V12 tout alliage, 4 ACT, de 4,971 cm3, développant 440 chevaux) n'allait pas être produite telle quelle, le moteur nétant pas jugé suffisamment fiable tel quel. C'est avec une mécanique beaucoup plus robuste de 4litres (3929 cm3, 375 chevaux) que la voiture entrait en production. Elle revendiquait pas moins de 295 km/h et seulement 22,8 secondes au kilomètre départ arrêté.
Basse (1,07 m pour 1,80 m de large), légère - son châssis tubulaire, complexe et coûteux mais très efficace autorisait un poids inférieur à 1100 kilos - la LP400 dans cette première version est considérée comme l'apogée de la "vraie" marque Lamborghini, c'est-à-dire avant que des groupes industriels n'entent dans son capital et par conséquent n'interviennent dans la conception et la fabrication des modèles.
La Countach, par l'association de ses performances dignes d'une automobile de compétition et de son style ravageur, reprenait le flambeau des plus grands créateurs automobiles ; elle demeurera un événement inégalé dans l'histoire de l'automobile.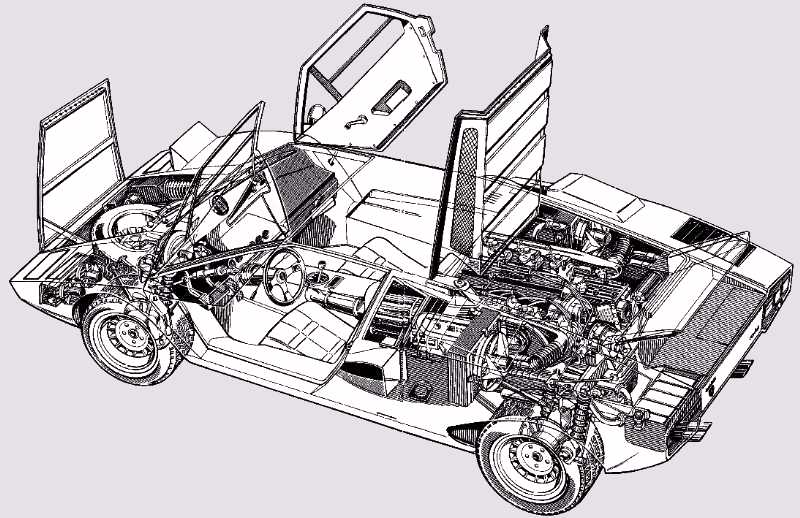 Cette vue éclatée révèle la modernité de la conception (boite centrale inversée, double radiateurs d'eau implantés à l'arrière).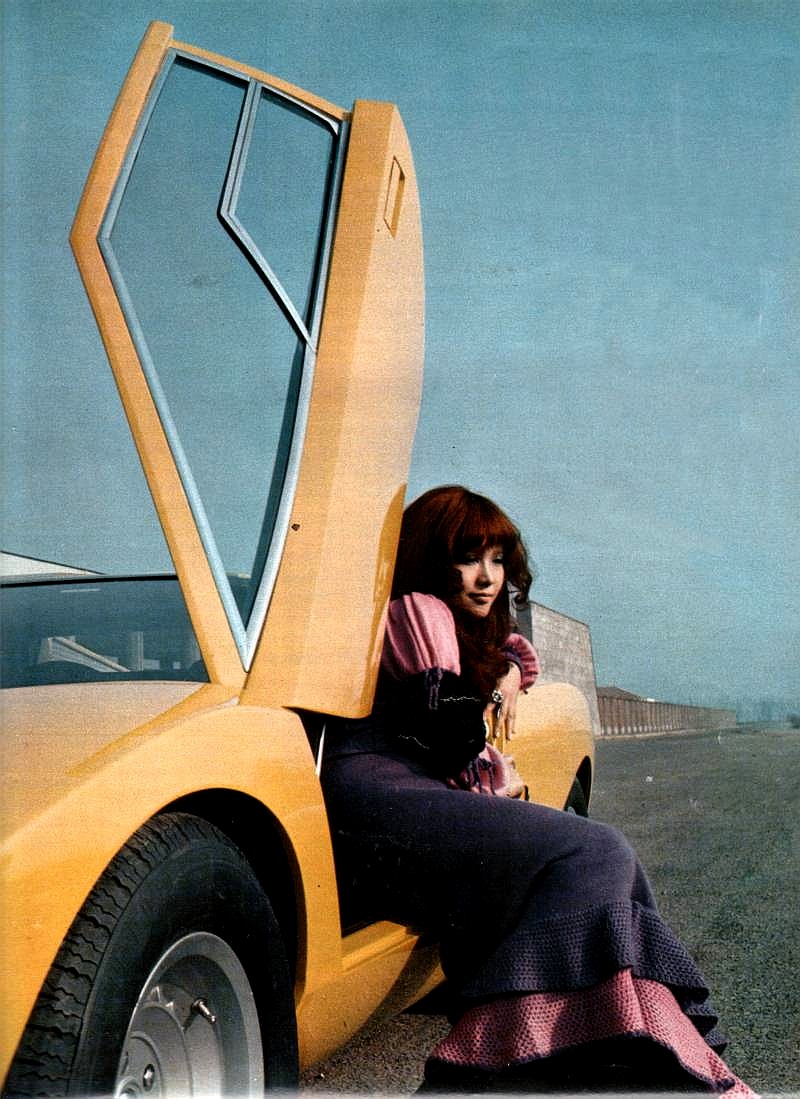 Photo ci-dessus et ci-dessous extraites du catalogue d'origine de la LP400.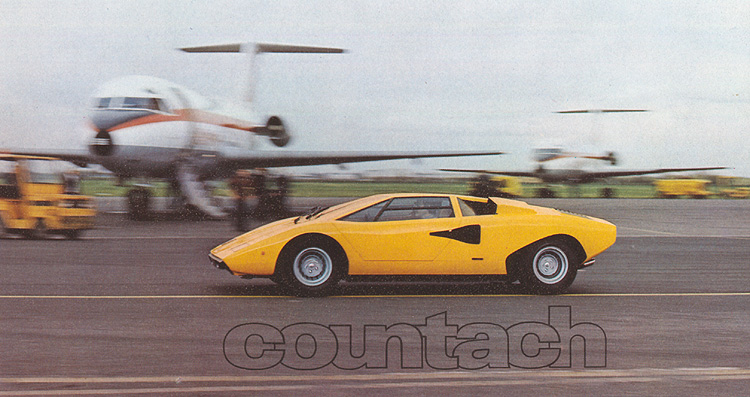 La voiture proposée à la vente.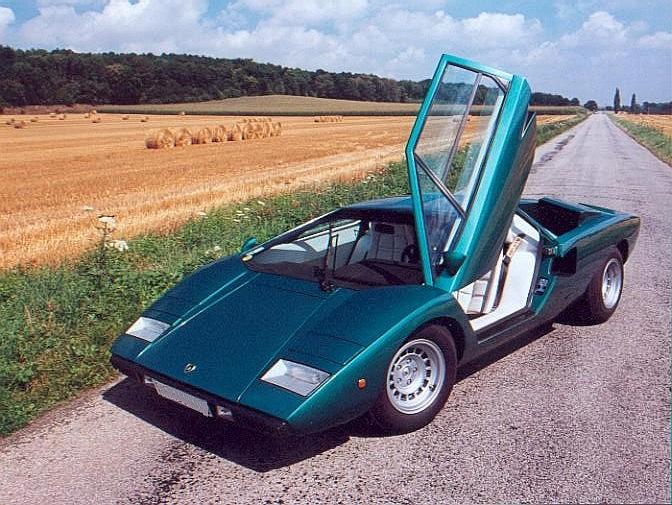 Seulement 150 Countach LP400 ont été fabriquées par Lamborghini.
Celle que nous proposons possède un historique particulièrement intéressant, car c'est la toute première qu a été importée en France. Elle fait partie de la collection d'Autodrome depuis une quinzaine d'années. Sa couleur vert métallisée est d'origine, ainsi que l'intérieur garni d'une sellerie en cuir blanc. Elle a fait l'objet d'une restauration extrêmement soignée.
Cette Countach est la sixième construite par l'usine, y compris le prototype exposé aujourd'hui à l'usine, donc très probablement une des toutes premières encore existante et disponible à l'achat - et sans aucun doute l'une des plus authentiques et originales.
Faisant partie des premiers exemplaires, elle est donc équipée des éléments de carrosserie les plus légers ainsi que des certaines pièces en alliage de magnésium "Elektron" (carter de filtre à huile, boîtier de direction, supports moteur, etc) ; l'utilisation de cet alliage, extrêmement léger et solide, a été abandonné ensuite en raison de son coût.
Cette voiture n'a eut qu'un seul propriétaire avant que l'un des associés d'Autodrome ne l'achète et la fasse restaurer par le meilleur spécialiste des Lamborghini Classiques, monsieur Edmond Ciclet.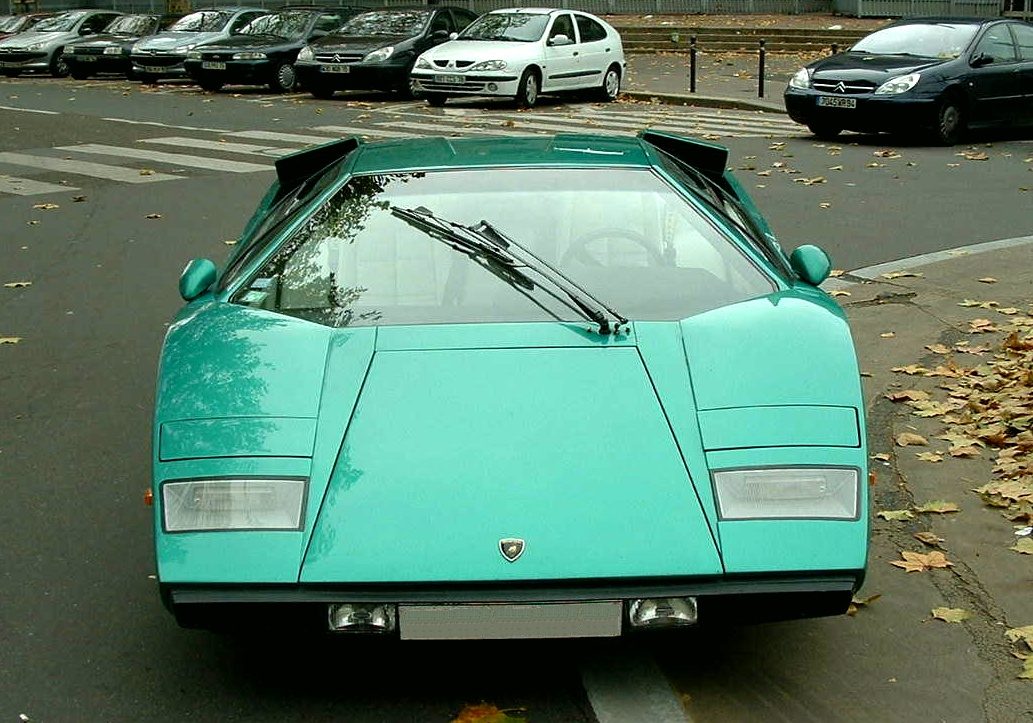 Vraisemblablement la plus belle GT du monde.
La voiture appartenait à un riche distillateur de Cognac qui, pour des raisons personnelles, conserva cette automobile "grand cru" dans son château pendant une vingtaine d'années sans rouler, mais dans d'excellentes conditions de maintenance.
Les travaux ont été menés sans préoccupation de coût, mais avec deux priorités : restaurer le meilleur état mécanique possible, tout en conservant l'aspect d'origine. Ainsi la splendide peinture d'un ton vert métallisé d'origine n'a pas été refaite, pas plus que l'intérieur en cuir blanc avec moquettes vert foncé, en très bon état, avec sa radio d'époque.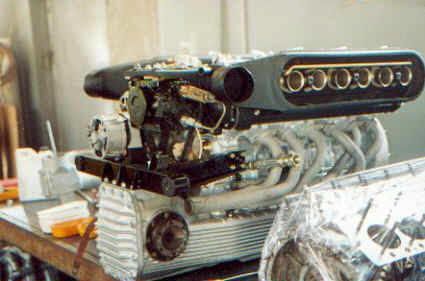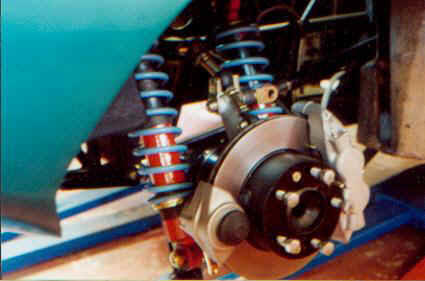 Par ailleurs, tout ce qui concerne la mécanique a été démonté et refait à neuf : suspensions, rotules, amortisseurs, freins (disques et étriers), roulements, transmissions, moteur (notamment démontage complet et remplacement des segments, coussinets, chaînes, rectification des soupapes et sièges, chromage et traitements des pièces, réfection des carburateurs). La boîte de vitesses et les circuits de refroidissement d'eau et d'huile ont été remis à neuf (avec déplacement du radiateur d'huile à l'arrière, modification réversible, invisible mais très efficace). Les cinq pneus sont neufs et montés sur jantes repeintes à l'époxy.
Ces travaux ont été effectués en 1996, la voiture avait alors 40 000 km d'origine, elle en a fait environ 6000 depuis, étant utilisée régulièrement et très soigneusement.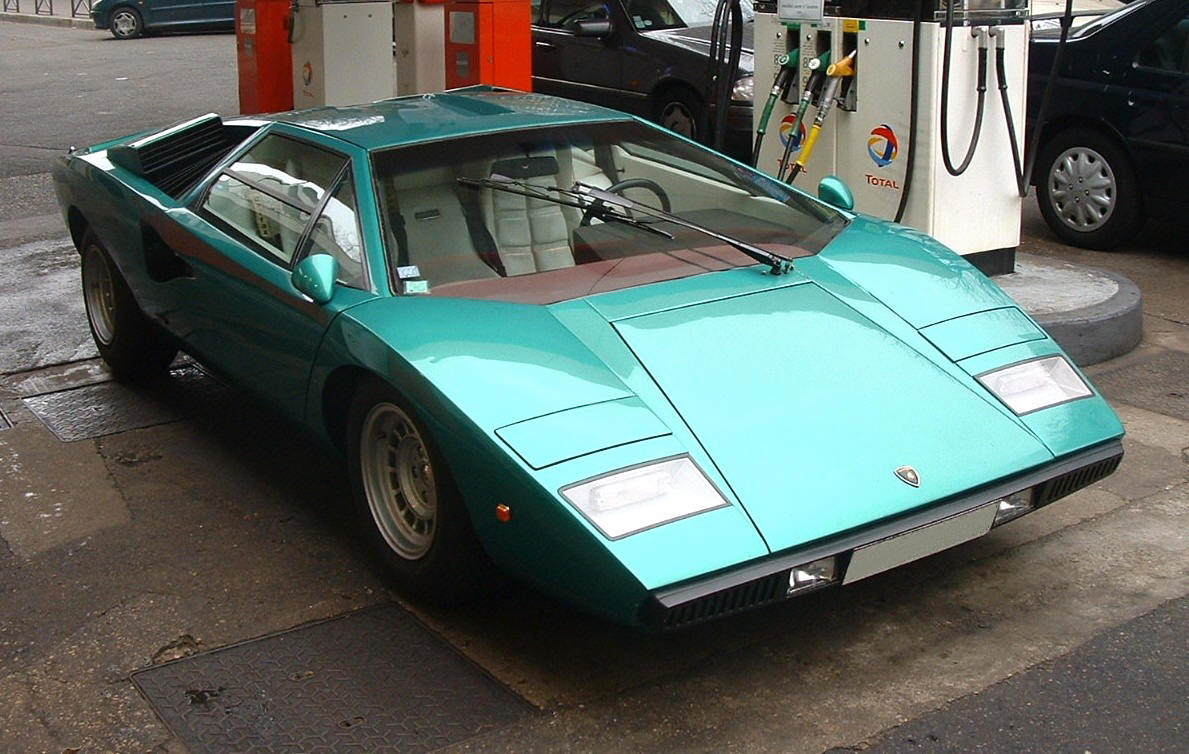 Cette Countach, parfaitement utilisable, survole le réel ; c'est littéralement un rêve de jeunesse qui se réalise...Dans la rue, les passants se frottent les yeux.
Cette Countach LP400 a été essayée dans plusieurs revues spécialisées en France (Sport Auto, Auto-Rétro). Elle est utilisable sans aucun soucis et extrêmement agréable à conduire, aussi nerveuse et efficace qu'à sa sortie d'usine. L'aspect du moteur, sans être "sur-restauré" est presque plus beau que neuf. L'apparence d'origine intégralement respectée et la combinaison de couleur vraiment très particulière donnent à cette automobile un charme fou.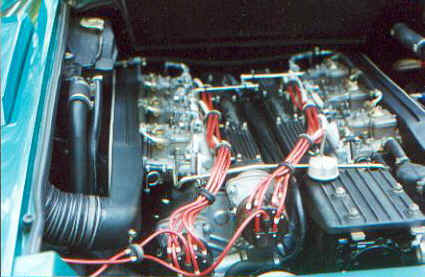 La voiture possède, fait rarissime, ses outils d'origine et sa pochette avec manuel d'utilisation. Nous pensons qu'aucune autre LP400 disponible à la vente ne présente le même intérêt historique, esthétique et technique que celle-ci.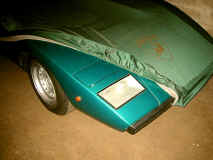 Prix : [TROP TARD] €
---
1976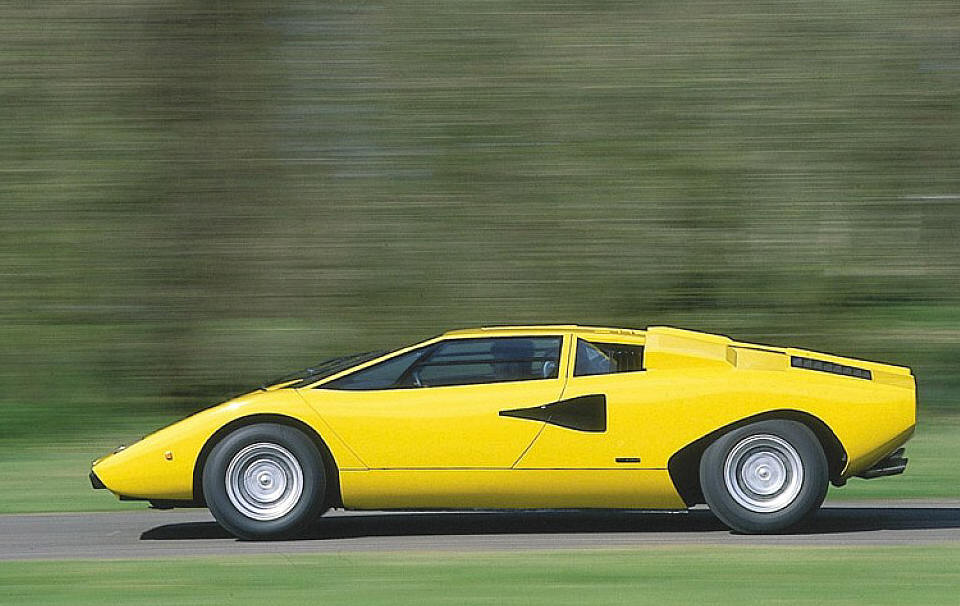 After the sublime 350 GT, aesthetically and technically more advanced than any Ferrari of the period, after the jaw-dropping Miura, an ultra-low GT with its race-inspired rear V12 engine, after the radical Espada 4-seater, what new masterpiece was to be presented by Ferruccio Lamborghini?
At the Geneva 1972 Motor Show, the press discovered a spaceship coming from another world, an icon of speed, an outrageoulsy beautiful shape, wich obviously outdated all competition at once, and was going to change the history of modern cars: the Lamborghini LP500 Countach.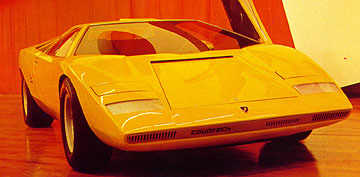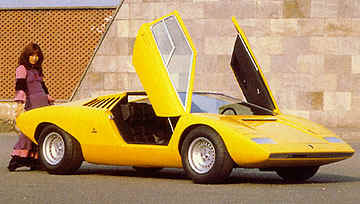 Its line, created by Marcello Gandini, took its origin from the prototype "Carabo" (1968) from Nuccio Bertone, based on an Alfa-Romeo 33 racing chassis, a dream car, carved like a sleek monolith, radical and shouting « avant-garde ».
From this outline, Gandini extracted the quintessence, creating a prototype of the modern mechanical beauty. The LP500 (equipped with a new V12, all alloy, 4 ACT, 4,971 Cm3, developing 440HP) was not going to be produced as it was presented, the 5-litre engine being considered not sufficiently reliable.
It is with a much more robust 4-litre (3929 Cm3, 375HP) engine that the car production started. It did not claim less than 295 km/h and only 22,8 seconds for the kilometer.
The car is very low (1,07 m), and very light : its tubular frame, complex and expensive but very effective authorized a weight lower than 1100 kilos. The LP400 in this first version is regarded as the culmination of the "true" Lamborghini marque, that is before industrial groups absorb the firm ; in the eighties and later these non genuine influences (Chrysler, then Audi-VW) significantly altered the spirit of the design in the following years.
The Countach, by the association of performances at the level of a race car and devastating style, was acclaimed as on of the greatest GT ever put on the road ; it will remain a matchless pice of art in the history of automobile.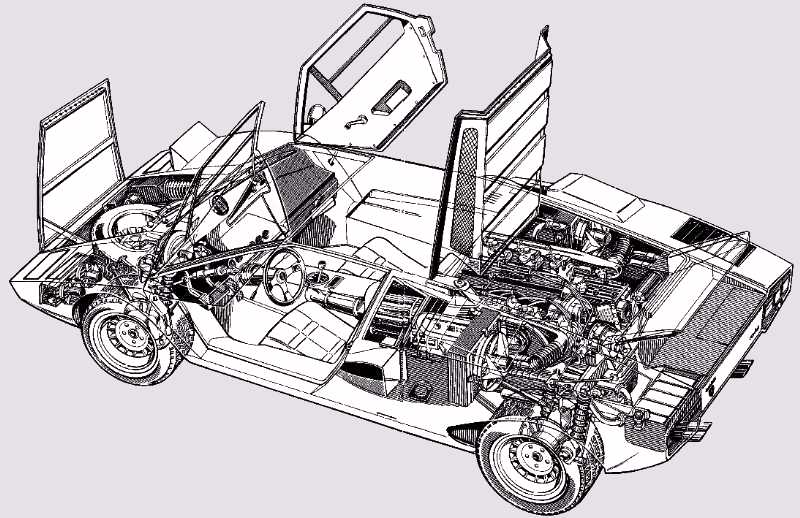 This see-through sight reveals the modernity of the design (central engine, gearbox reversed, double water radiators at the rear).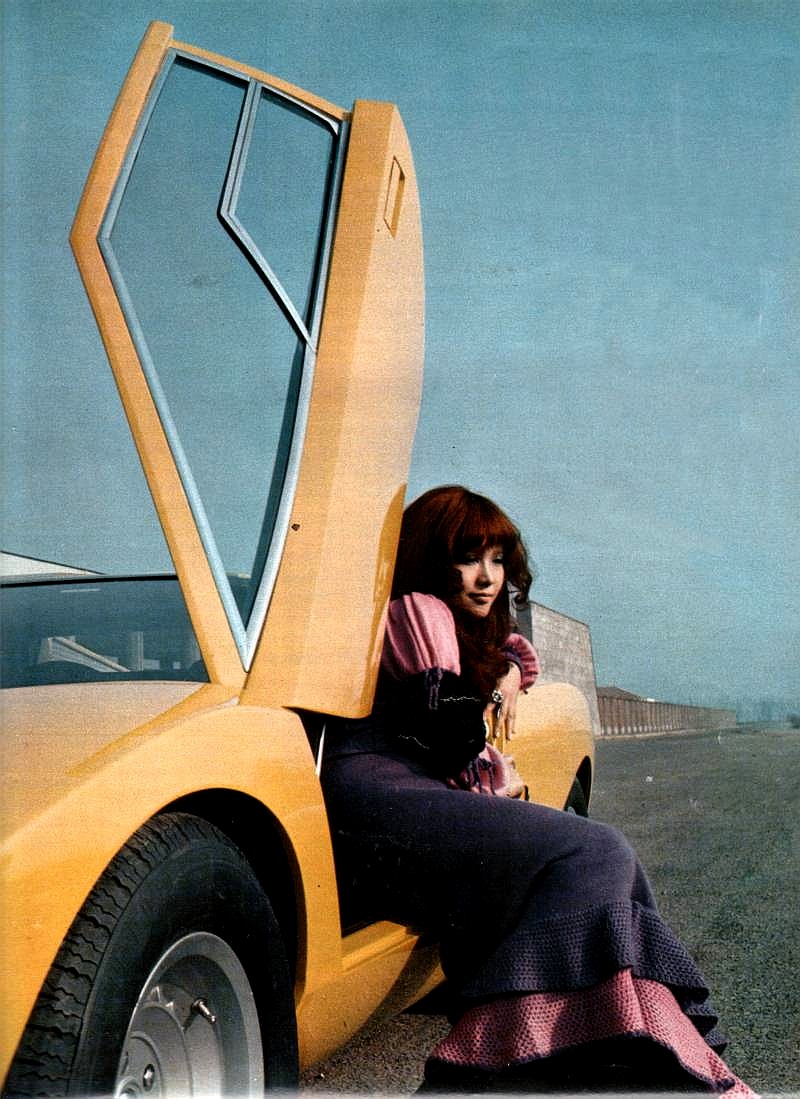 The photographs above and below are from the original catalogue of the LP400.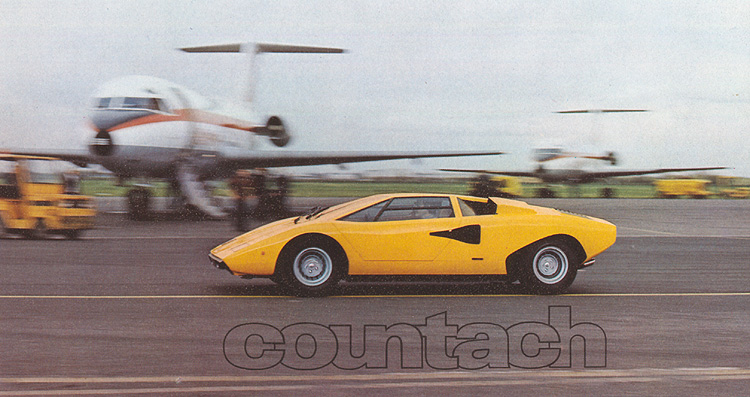 The car offered for sale.
Only 150 Countach LP400 have been ever built by Lamborghini.
The one that we own has a particularly interesting history, because it was the very first imported into France. It has been part of our own collection since about fifteen years. This Countach is the sixth ever built, including the prototype exposed today to the factory, therefore most probably one of very first still existing and available for sale - and without any doubt one of most authentic and original.
Its metallic green colour is original, as well as the white leather interior upholstery. It has been subject to an extremely careful and complete restoration.
Being one of the first ever built, it is equipped with the lightest components, such as certain magnesium alloy parts ("Elektron" casing for steering, oil filter, engine support brackets, etc); the use of this extremely light and solid alloy, was eventually abandoned because of its high cost.
This car had only one owner before one of the Autodrome associates bought it, and had restore by the best specialist in Lamborghini Classiques, Mr Edmond Ciclet.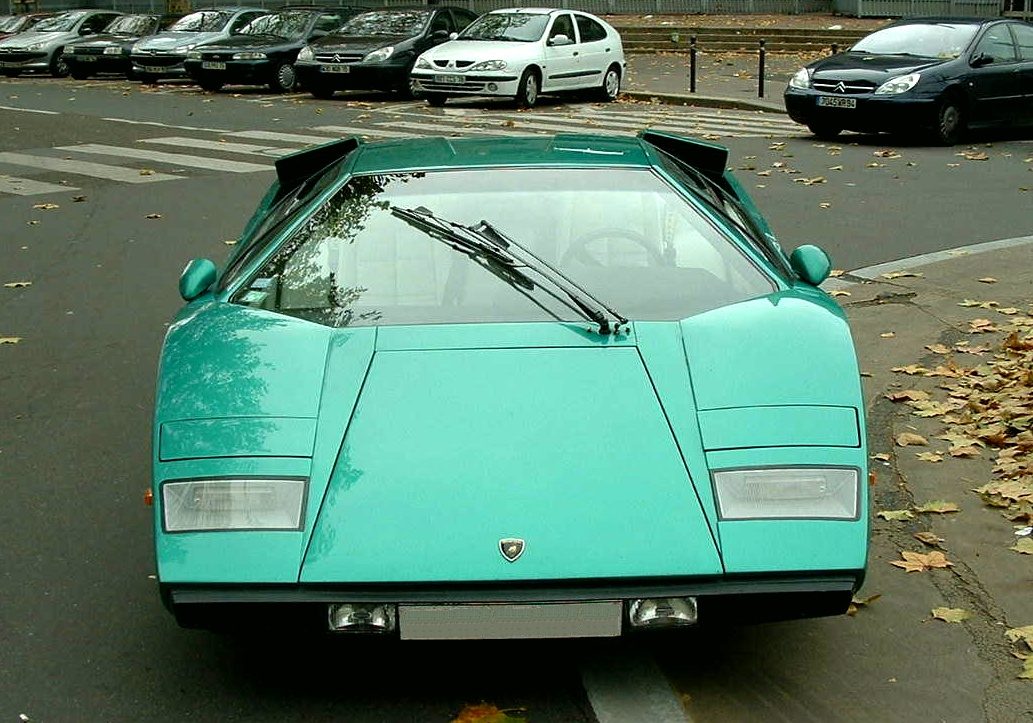 Probably the most beautiful GT in the world.
The car belonged to a rich Cognac manufacturer who, for personal reasons, preserved this "great vintage" car in his castle during a number of years without driving it, but under excellent conditions of maintenance.
Restoration work was undertaken without any cost restriction, but with two priorities: to restore the best possible mechanical condition, while preserving the original and authentic aspect (no over-restoration).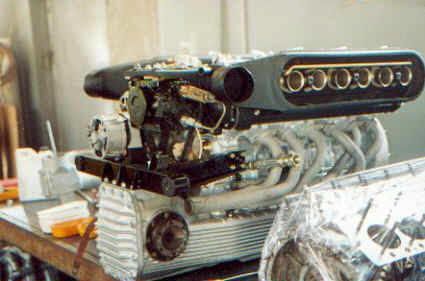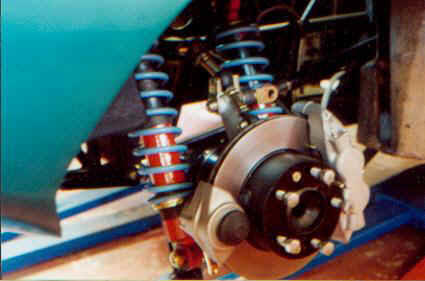 This is why the splendid paintwork was not touched, but only carefully cleaned, same for the white leather interior with dark green fitted carpets, in very good consition, with its period radio.
In addition, all mechanical elements were dismounted and rebuilt: suspensions, shock absorbers, brakes, bearings, transmission, engine (in particular complete disassembling and replacement of oil-segments, bearings, chains, rectification of valves and seats, chromium plating and special treatment for some parts, complete refurbishing of the carburettors).
The gear box and the water cooling system were also renewed (with displacement of the oil radiator to the back, a reversible and invisible, but very effective modification to improve oil cooling).
The five tires are new and assembled on rims that have been repainted with epoxy. This work was carried out in 1996, the car then had 40 000 km of origin, it drove approximately 6000 since, being used regularly and very carefully.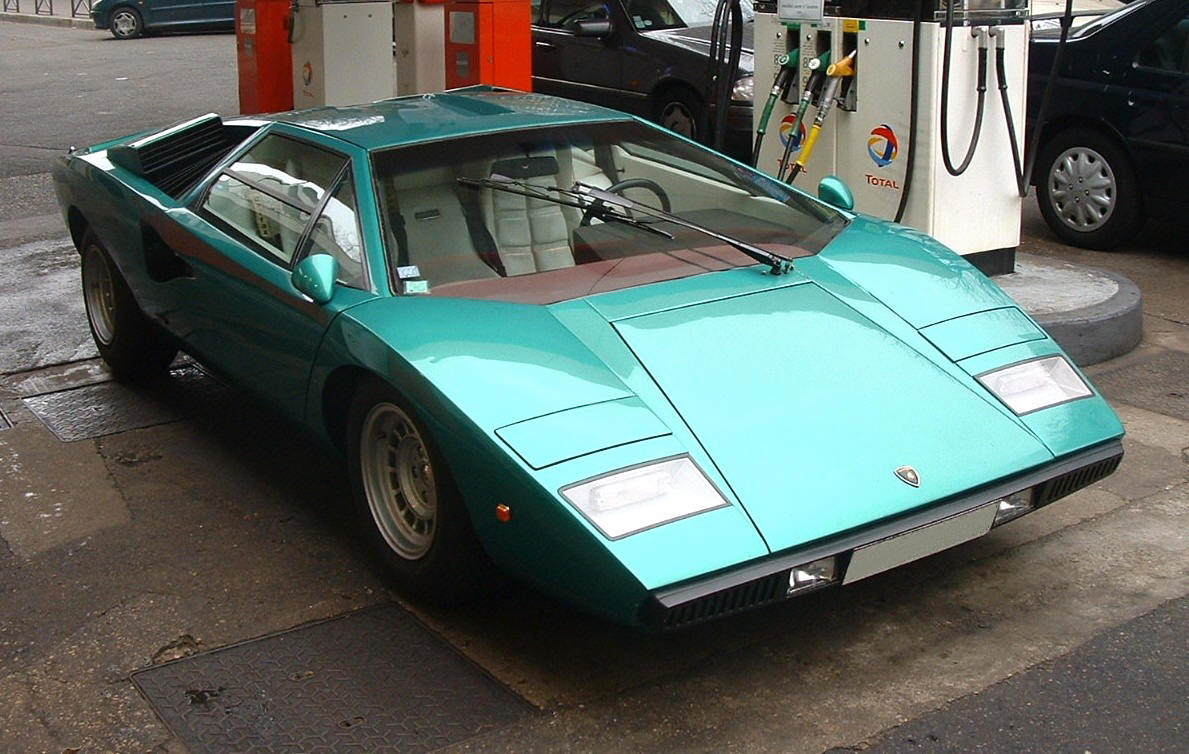 This Countach LP400, perfectly usable, is literally a dream to drive, a dream made true... In the street, people rub their eyes and stare. This car was tested and presented in several specialized reviews in France (Sport-Auto, AutoRetro).
It is easy to drive without any concern, and extremely pleasant on the road, as powerful and effective as a new one from the factory.
The aspect of the engine, without "over-restoration" is almost more beautiful than new. The appearance of a completely respected original aspect combined with a very particular color scheme give to this car an incredible charm.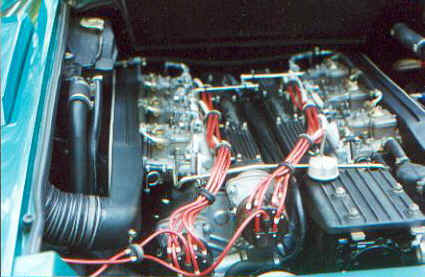 The car has, which is extremely rare, its original tools and its small pouch with instruction manual. We think that no other LP400 available for sale is of equivalent historical, aesthetical and technique interest than this one.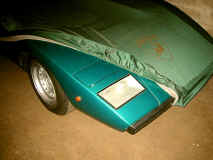 Price : [TOO LATE] €